Hello! Thanks for reading Food Fix. Earlier this week, I asked you to give me feedback on the first newsletter – and wow, did you all deliver! I was completely blown away by how many of you took the time to share your thoughts. Keep them coming.
Some common themes: Many of you asked for some kind of summary or outline at the top. A lot of you loved the "What I'm reading" section and the custom art. Also lots of love for the jobs announcements (send me your staff moves).
Today, I'm experimenting with more short-format items vs. Tuesday, which led with a longer, more in-depth top item. Let me know what you prefer.
As a reminder, Food Fix will remain free Tuesdays and Fridays for the next few weeks in August. Come September, Food Fix will transition to being part-paid, part-free. Tuesday newsletters, which will focus more on action inside the beltway, will be for paid subscribers only. Friday newsletters, which will be a tad more general interest, will remain free to everyone. Paid subscribers will always get both.
If you become a paid subscriber in August, you'll get an extra month added to your annual subscription. It's a great way to support independent journalism. Check out your options here.
In the meantime, you can always reply to this email or shoot me a note at helena@foodfix.co with feedback. I recently wrote about why I launched Food Fix and answered many common questions I've received here.
Alright, let's get to it –
Helena
***
Today, in Food Fix:
– Beyond Meat is getting crushed – both in the media and on Wall Street
– Final public charge rule heads to the White House
– FDA hints at front-of-pack labeling
– New formula plant allegations spark more questions about FDA oversight
– Remembering Congresswoman Jackie Walorski
***
Beyond Meat's bubble bursts
If you don't have a Google News alert set for "Beyond Meat," you might not be fully aware of just how much bad news the plant-based meat company is generating right now.
The company's stock fell Thursday on news that it was lowering its revenue forecast for the year, a day after announcing it would lay off 4 percent of its workforce in order to burn less cash. One research firm earlier this week declared that the company needs to "dramatically cut costs and lower its cash burn, or it will go bankrupt."
Deena Shanker over at Bloomberg has been tracking all of this closely. She and Leslie Patton recently published an in-depth look at the company's struggle to bring plant-based pepperoni and other products to fast food giants like Pizza Hut. The company's stock price has been cut in half since the start of 2022 — and that's after shares already plummeted some 45 percent over the course of 2021. Beyond Meat's once $15 billion valuation now stands at just $2 billion. (This dive by Forbes' Chloe Sorvino is also worth a read.)
"Once a Wall Street darling, Beyond Meat has struggled to turn partnerships with some of the world's biggest restaurant companies, such as McDonald's Corp. and Yum! Brands Inc., into profitable endeavors," Shanker wrote this week. Steeper competition, increased costs and lackluster sales have all contributed to the faux-meat maker's malaise.
Ethan Brown, the company's founder and CEO, defended the recent layoffs this week: "While difficult, this decision is one piece of our larger strategy to reduce operating expenses and support sustainable growth," he said in an internal memo, per Bloomberg.
It's a stunning fall. I remember meeting Brown in June 2016. He was wearing a t-shirt, jeans and dress shoes, waiting to greet former first lady Laura Bush at the Aspen Ideas Festival. (I was there moderating some panels.) The festival included a large tasting event for both Beyond Meat and Impossible Foods, where conference-goers flocked to the picnic-style gathering to try these new plant-based burgers that were – and still are – marketed as the future of protein.
If you zoom out, though, the trajectory of Beyond Meat now looks more like a plane crash landing.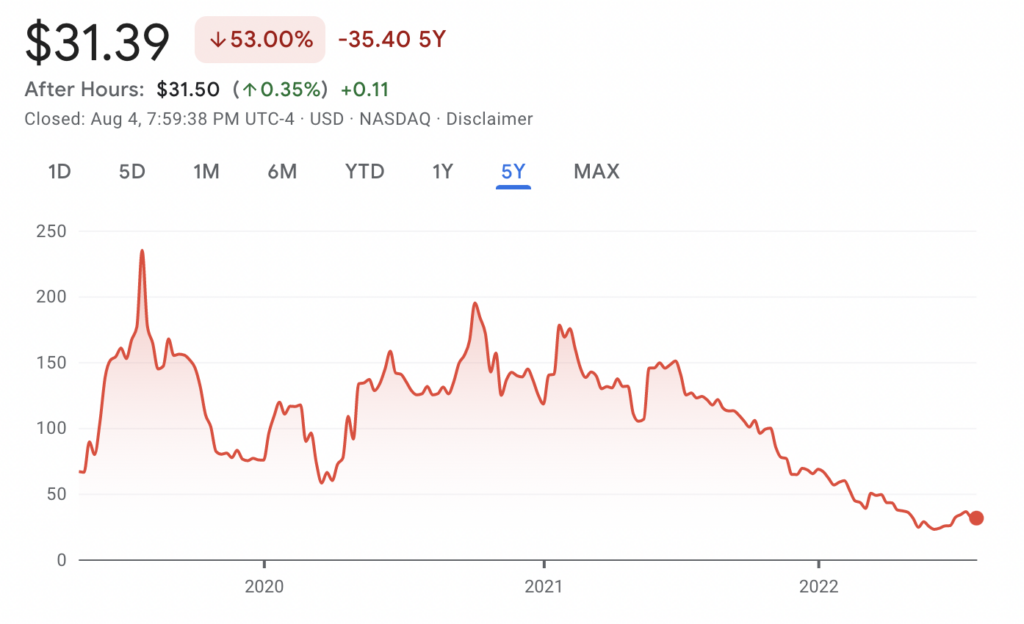 Why this matters: Plant-based boosters have been pushing these products as a way to reduce consumption of animal products and alleviate pressure on the environment. But Beyond Meat is arguably the biggest name in the space, and its struggles to catch on with customers and investors alike could spell trouble for the broader plant-based meat movement.
Of course, the energy behind these efforts isn't going away: Plant-based meats are increasingly being served in schools. Some advocates want the federal government to invest a lot more in research to boost the sector, much like China and other countries are doing.
Alternative protein companies are also increasingly showing up in Washington. Beyond Meat hired a lobbying firm in 2019 (Covington & Burling LLP) and Impossible Foods also has representation: in-house, and through BGR Government Affairs, according to disclosures.
On a related note, Cracker Barrel this week saw some customers revolt on Facebook over an announcement that diners will soon have the option of choosing an Impossible Sausage instead of traditional sausage or bacon. The Washington Post covered the kerfuffle here.
***
Final public charge rule heads to White House
The Biden administration's final public charge rule has been sent by the Department of Homeland Security to the White House for final review, advocates learned Thursday, per the Protecting Immigrant Families Coalition.
Start the OMB clock: The White House Office of Management and Budget review often takes quite a while, but it's possible that the final public charge rule could move more quickly.
The goal is to replace the Trump administration's approach to public charge – a policy that sought to penalize immigrants for using public assistance programs, including nutrition benefits, if they seek legal permanent residency or citizenship. In effect, the policy deterred many people from seeking help from nutrition assistance and other safety-net programs that they qualified for.
The Biden administration issued its proposed replacement rule in February – so the effort is already moving pretty swiftly, by federal rulemaking standards.
More to come on this, and what it means. For now, keep this on your radar.
***
FDA hints at front-of-pack labeling
The concept of front-of-pack labeling is getting some real traction in the Biden administration. The FDA is planning to host consumer focus groups on front-of-pack labels this summer, Susan Mayne, director of the agency's Center for Food Safety and Applied Nutrition, said during a recent meeting with the Food and Beverage Issue Alliance, per a readout from participants.
What's front-of-pack? Front-of-pack labeling, aka FOP, is a way to communicate nutrition messages on the front of food packages, instead of just the back or sides of packages where you now find mandatory Nutrition Facts. It's a controversial idea in much of the food industry, but nutrition advocates and Democrats have wanted to do this for many years.
Mayne said that FDA is still focused on finishing the agency's update to its definition of "healthy" – a policy that has been stuck at OMB since last November. But in the meantime the agency is gathering information on FOP. She suggested this policy would be raised at the White House conference on food, nutrition and health, slated for next month.
Oh, Canada: Canadian health officials announced last month that front-of-pack warning labels are coming in 2026 for products that are higher in sodium, sugar or fat. There's already a growing list of countries seeking such labels, including Mexico and several nations in South and Central America. You can find a good overview on all this here.
An outside push: The Center for Science in the Public Interest and other groups have formally petitioned the FDA to move on front-of-pack labeling, they announced Thursday.
"Consumers should be able to tell at a glance if a food or beverage is high in added sugars, sodium, and saturated fat," the group said. Per a regulatory petition filed with FDA, CSPI asked the agency to "establish a simple, standardized, evidence-based, and mandatory front-of-package labeling system for all packaged foods sold in the United States." CSPI was joined by the Association of SNAP Nutrition Education Administrators and the Association of State Public Health Nutritionists on its petition.
***
New allegations about the Abbott formula plant
In case you missed it, I published a new story in POLITICO Wednesday about a second employee coming forward to describe concerns about food safety and other management problems at the Abbott Nutrition plant in Sturgis, Mich.
"The former frontline leader, who worked at Abbott Nutrition's formula plant in Sturgis, Mich., for multiple years, is the second employee to raise concerns about conditions and management at the plant, once responsible for about a fifth of the U.S. formula supply," I wrote.
"The former supervisor, who had direct knowledge of the plant's operations, described an atmosphere in which maintenance problems that could promote bacterial growth weren't promptly fixed, there were constant roof leaks, equipment was not always properly designed to keep food safe and records were not always accurate — all problems that had gone undetected during annual FDA inspections in recent years."
There are a whole bunch of new details in the piece, which you can read here. Among them: FDA sent inspectors to the plant in September for five years in a row, which gave the plant plenty of time to prepare for inspections. The former supervisor said they prepped heavily for them.
Abbott disputed the former employee's characterization of the plant. "The claims made by this unnamed source … are either inaccurate or completely taken out of context," said Scott Stoffel, divisional vice president of external communications and public affairs at Abbott.
***
Remembering Rep. Jackie Walorski
When you cover a niche beat on Capitol Hill, you learn pretty quickly which lawmakers actually care – and might have something useful to say – about the topic you're covering. Rep. Jackie Walorski (R-Ind.) was one of those members. When she was on the House Agriculture Committee, she showed up prepared, she asked thoughtful questions, and if you asked her about something, she usually had something substantive to say.
As you've likely heard by now, Walorski was tragically killed in a car crash on Wednesday, along with Zachery Potts, 27, her district director, and Emma Thomson, 28, her communications director.
Walorksi was warmly remembered by colleagues across the aisle this week – in particular for her bipartisan work on a variety of food and nutrition issues, from school meals to supply chains and food waste. She was one of the co-sponsors of the bill that gave the White House the money – and a strong nudge – to host the upcoming conference on food, nutrition and health.
Last month, Walorski pushed for the passage of The Food Donation Improvement Act, a bill she co-sponsored, during a Food Tank event. Her remarks can be viewed here.
Rep. Jim McGovern (D-Mass.), who co-chaired the Hunger Caucus with Walorski, wrote a Twitter thread Wednesday, calling her "a dear friend, an incredible public servant, and somebody who cared deeply about uplifting the most vulnerable among us, whether in America or around the world."
The American Bakers Association issued a statement saying it was "heartbroken" about the news, calling Walorski a "friend of the baking industry since the beginning of her service in 2013."
***
Seeking White House conference comments
Quick note here: I am currently collecting the various recommendations groups and individuals have sent in to inform the White House conference on food, nutrition and health. Please send them my way: helena@foodfix.co.
***
What I'm reading
More Americans Are Going Hungry, and It Costs More to Feed Them (New York Times). Food insecurity is on the rise again, a troubling turn after Covid relief programs had brought major stabilization. This story unpacks the various factors behind the trend, food price inflation being a major one.
Despite extended funding, Texans face delays in receiving SNAP benefits (Dallas Morning News). Gov. Greg Abbott announced that the state will extend emergency allotment payments, which means more than $300 million in additional benefits are heading to Texans using the SNAP program. But Texas still has a massive backlog of applications for aid.

The Infant Formula Shortage (A Hard Look, the Administrative Law Review). Ok, so this is a listen, not a read. It's a conversation with regulatory lawyer (and former FDAer) Stuart Pape of Polsinelli about the shortage and how we got here. They also discuss a bunch of ideas for how Congress could change sole-source contracting and other key formula policies.
***
Who's who
Ray Starling, who formerly served as chief of staff to Agriculture Secretary Sonny Perdue, is now an executive adviser to Aimpoint Research. Starling is still serving as both general counsel at the North Carolina Chamber and president of the NC Chamber Legal Institute.

The Farm Journal Foundation recently added to its government affairs team. Katie Lee is joining the organization as vice president of government affairs, and Kelsey Barnes is the new director of government Affairs.
Staff moves to announce? Send them to helena@foodfix.co.
***
Spread the word – and subscribe!
Please do me a favor and forward this newsletter to someone who you think would find it useful or interesting. You can subscribe to the newsletter for free here.
As a reminder, I recently wrote about why I launched Food Fix and answered the most common questions I've received. To learn more, a breakdown of free and paid subscription options is here.
See you on Tuesday!