Happy Friday and welcome to the 75th edition of Food Fix! I'm glad you're here. If you're not yet a paid subscriber, you're missing out on Tuesday's newsletter, which offers a bit more inside-baseball coverage, flags important upcoming events, and shares interesting job moves in the food world. Subscription options are here.
Consumer honors: A big investigative piece I wrote on FDA's dysfunction last year for Politico was honored this week in the Consumer Federation of America's annual awards celebration in Washington as part of the Betty Furness Consumer Media Honors, which highlight the previous year's "top consumer-focused stories aimed at improving the lives of all Americans." The story was selected in part because the piece "has helped to catalyze an ongoing process to reform the foods program at FDA." Two stories from the New York Times were also selected.
Talking newsletters: I recently participated in an interesting discussion hosted by Sentient Media's Jenny Splitter about the role of newsletters in food and agriculture journalism, where I shared how my thinking on the medium has evolved quite a bit! If you're interested, you can catch a replay of the conversation with Joseph Winters of Grist and Thin Lei Win of Thin Ink, a newsletter about the intersection of climate and food.
As always, I welcome your feedback. Reply to this email to land in my inbox, or shoot me a note: helena@foodfix.co.
Alright, let's get to it –
Helena
***
Today, in Food Fix:
– Gaming out how a debt limit deal gets done, with or without SNAP changes
– Vilsack, food groups fume over House spending bill
 – A new bill to end SNAP ban for those with drug convictions
***
Walking a debt limit tightrope
We are quickly approaching the deadline for Washington to raise the debt limit and avert default – you know, pay the bills, keep the lights on, avoid economic catastrophe!
I think a lot of people assume that mature adults will prevail here and there will be a deal, and I think that's probably right, but it's still far from clear how a deal gets done. As I noted on Tuesday, there's been plenty of interpreting and wheel-spinning over comments President Joe Biden has made in recent days, when he noticeably didn't rule out stepped-up work requirements for the Supplemental Nutrition Assistance Program, which helps more than 42 million people buy groceries each month.
Biden on Wednesday appeared to rule out imposing new work requirements on Medicaid, but again left SNAP out of the mix: "I'm not going to accept any work requirements that's going to impact on medical health needs of people."
Biden also said he wouldn't accept work requirements that "go much beyond" what's already in place. "It's possible there could be a few … but not anything of consequence," he added. If you're a little confused reading that, well, join the club. Reporters, lobbyists and all of Capitol Hill have been picking apart this phrasing. He's signaling an openness to tightening certain work requirements, just "not anything of consequence." What does it mean, exactly?
As a quick refresher here: House Republicans passed a debt limit bill that would expand how many adults without children must prove they are working, job training or doing some other similar activity at least 20 hours per week, or else they can only receive SNAP benefits for 90 days every three years (this is otherwise known as the time limit). The bill also called for new work hurdles for Medicaid and Temporary Assistance for Needy Families (TANF), which was once primarily a cash welfare program but is now used by some states more like a slush fund.
House Speaker Kevin McCarthy (R-Calif.) this week suggested that work requirements were a red line issue, meaning Republicans would insist on getting some concessions.
What's happening now: Everyone's scrambling to try to keep their preferred safety program off the table. Medicaid seems safe, at least based on public statements, so that leaves SNAP and TANF potentially on the chopping block.
Senate Agriculture Chairwoman Debbie Stabenow (D-Mich.) – who's also No. 3 in Democratic leadership – has long been fiercely opposed to stiffening work requirements in SNAP. Last month, Stabenow said the GOP proposal to expand the time-limit for so-called able-bodied adults without children (ABAWDs) was "mean." This week, she told Leah Douglas of Reuters that SNAP policy should be left to the farm bill (which lawmakers are working on, btw, albeit slowly).
"It is a red line, as far as I'm concerned," Stabenow said of tying the expansion of work requirements to the debt ceiling talks, per Reuters. "We need to take default off the table, and then these policies and cuts in spending can be negotiated where they should be."
None of my sources can predict how this ends, exactly. Everyone's a little bit stumped. It's hard to see how House Republicans will accept any deal that omits tighter SNAP work requirements entirely. At the same time, it's hard to see how significant SNAP changes can be included in any deal that could get through the Senate. This is the tightrope that Biden's team has to walk.
The latest thinking: Reporting late Thursday, however, started to indicate that a third option might be emerging as the more likely outcome here: Maybe TANF will become something of a sacrificial lamb. (See Roll Call and Politico.)
Politically, this might be the easiest option for Biden. I'm not an expert on TANF (I've traditionally focused on food programs like SNAP, school meals, etc.), but I think it's important to know how few people rely on this program compared to SNAP or Medicaid. Welfare reform in the Clinton era – and the subsequent block grants to states – fueled a significant shrinking of the TANF rolls. This chart from the liberal Center on Budget and Policy Priorities helps illustrate the trend over time: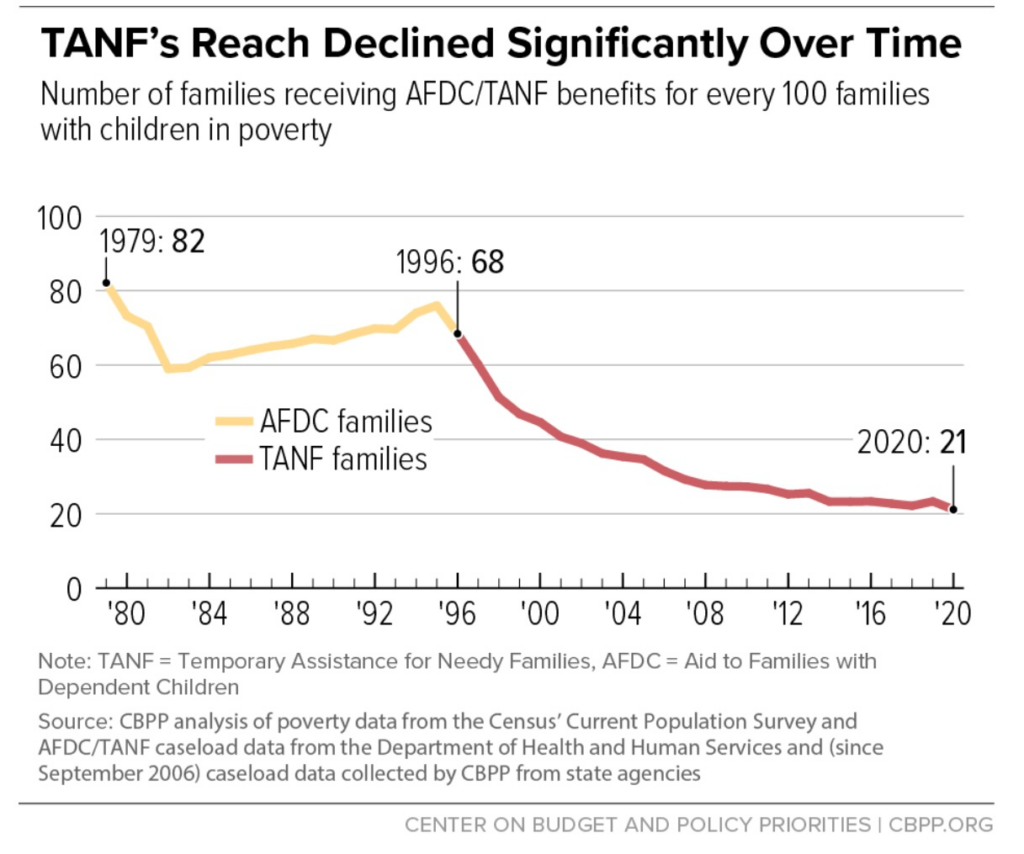 TANF aid is now going to a much smaller portion of families with children in poverty, but it's also just reaching way, way fewer people. According to the Congressional Research Service, there were about 2.8 million people on TANF in September 2022 – 2 million of whom were children. 
Here's another chart from the CRS which shows the number of families receiving TANF assistance over time: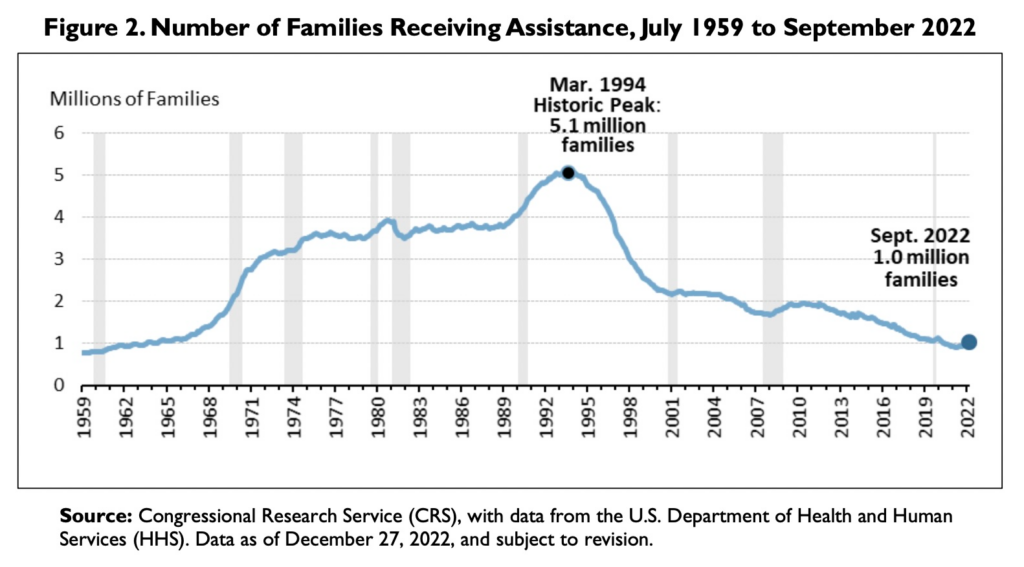 By comparison, SNAP currently serves more than 42 million individuals (22 million households), though it's important to note only a small slice of those are adults without children who would be subject to expanded work requirements (or the time limit). 
Besides being a smaller program, TANF also just doesn't enjoy the political clout that SNAP carries on Capitol Hill. There's an army of anti-hunger advocates and food industry groups to push back on any attempts to cut SNAP, which is muscle that the TANF advocacy world lacks. Still, TANF, where it still functions, is very much targeted at the absolute lowest income families. Adding hurdles to a program that primarily helps children and has already been gutted by welfare reform would certainly spark ire from the left, but it would almost certainly spark less ire than adding hurdles to Medicaid or SNAP. 
***
Vilsack, food groups fume over House spending bill
The House Appropriations agriculture subcommittee on Thursday advanced a spending bill for fiscal 2024 with cuts to discretionary funding across USDA and FDA, among other things, and suffice to say the proposal has not been received well.
According to a summary, the bill provides discretionary spending of just over $25 billion for programs in its jurisdiction, which is about 2 percent less than fiscal 2023 – and more than 12 percent lower than Biden's budget request for next year.
The bill proposes particularly deep cuts to USDA, taking the department back to 2006 spending levels, according to House Democrats. It also seeks to restrict USDA's ability to use the Commodity Credit Corporation, a depression-era financial institution, to invest in climate work and cuts funding for USDA's climate hubs, among other things.
My inbox is full of frustrated or angry statements about this bill from groups ranging from the National Farmers Union to the National WIC Association and the Alliance to End Hunger. The International Fresh Produce Association, for example, expressed disappointment that the legislation would rescind the stepped-up fruit and vegetable benefit in the WIC program. The plus-up in produce benefits started during Covid, and the industry and public health advocates very much want to make it permanent. "The FY24 bill reflects a 56% reduction in benefits for children and a 70% drop for women," said Mollie Van Lieu, IFPA's vice president of nutrition and health.
The angry statement that takes the cake, however, was from Agriculture Secretary Tom Vilsack, who issued an uncharacteristically pointed (and also pop culture relevant!) statement late Wednesday:
"The proposal is pathetic, it is punitive, and it is petty," Vilsack said. "I'm convinced Roman Roy from Succession must have had a hand in writing this unrealistic, hurtful bill."
He added: "While these individuals continue to posture and put forth non-serious proposals, the U.S. Department of Agriculture is charging ahead implementing policies and making investments that America's farmers, rural communities and families have been promised and are counting on to continue to rebuild from the pandemic, natural disasters and other challenges outside of their control. It is hard to see the logic in undermining such goals."
FYI: The House bill is just a starting point. The Democrat-controlled Senate will come up with its own bill and, if Congress does its job, they will be negotiated into some sort of compromise later on.
***
A new bill to end ban on SNAP for those with drug convictions
Sens. Cory Booker (D-N.J.) and Raphael Warnock (D-Ga.) – both members of the Senate Agriculture Committee – along with Rep. Steve Cohen (D-Tenn.) introduced legislation Thursday that would repeal the lifetime ban on individuals convicted of a drug felony from qualifying for SNAP benefits. (The bill is here.)
The lawmakers argue that the ban, which was enacted in 1996 as part of the "war on drugs," is "a failed policy that has only increased barriers to reentry for people who have served their time and are returning to their communities."
"Hunger and poverty are significant challenges for formerly incarcerated individuals that increase risk of recidivism," the lawmakers said in a press release. "Restoring SNAP eligibility will reduce recidivism by ensuring that individuals who have already repaid their debt to society do not face food insecurity as an additional obstacle to reentry."
On your radar: This is an issue to watch in this year's farm bill cycle, particularly as there is growing bipartisan agreement that the war on drugs has failed and the criminal justice system has disproportionately penalized communities of color for drug crimes.
***
What I'm reading
ADM Partners With Air Protein to Make 'Landless' Protein From CO2 (The Spoon). "ADM announced a partnership with Air Protein, a company developing technology to make protein out of thin air, using carbon dioxide as a feedstock," reports Michael Wolf. "The two companies will collaborate to build the first commercial-scale production facility for air protein. The foundation of Air Protein's protein production methodology (sometimes referred to as gas fermentation) was developed in the 1960s as NASA explored ways to produce food in space."
FDA's tepid response to intentional addition of allergens to foods fails consumers (CSPI). The FDA issued a statement this week responding to this dustup over the baking industry intentionally adding sesame to products as a way to comply with a new allergen disclosure requirement (read up here if you missed it). The Center for Science in the Public Interest criticized the latest move: "A lukewarm statement like this is simply not adequate. Companies are playing games with the rules designed to protect us, and it's causing harm," said Sarah Sorscher, director of regulatory affairs at CSPI.
We are funding our children's disease and doctor visits with SNAP (RealClearPolitics). Rep. Andy Harris (R-Md.), who chairs the House Appropriations agriculture subcommittee, co-authored an editorial with Calley Means, co-founder of TrueMed, a startup aimed at allowing individuals to use Health Savings Accounts to purchase healthy foods, arguing for a major crackdown on what you can buy with SNAP: "As the Farm Bill comes up for renewal, we hope that we can all agree on a simple, bipartisan solution that will save the lives of kids: no SNAP funding for sugar-added beverages and non-nutritious foods."
Michelle Obama lobbied for healthy school meals. Her new drinks wouldn't qualify. (Bloomberg). "Bloomberg News interviewed 12 independent health professionals and organizations and spoke with Plezi Chairman Sam Kass, as well as with members of the company's advisory board," writes Deena Shanker. "Nearly all of the experts conveyed their respect for Obama and her achievements in improving child nutrition. But most were critical of the new line of drinks."
***
Do you work in the food sector? Your boss should comp Food Fix
Become a paid subscriber to Food Fix to unlock access to two newsletters each week, packed with insights and analysis on food happenings in Washington and beyond. If you work in the food world, your company or organization should comp your subscription, just like they might pay for your Wall Street Journal or New York Times. Yes, really!
P.S. You can also follow Food Fix on Twitter and LinkedIn.
Sign up for the Friday newsletter: If someone forwarded you this email, sign yourself up for the free Friday edition.
See you next week!